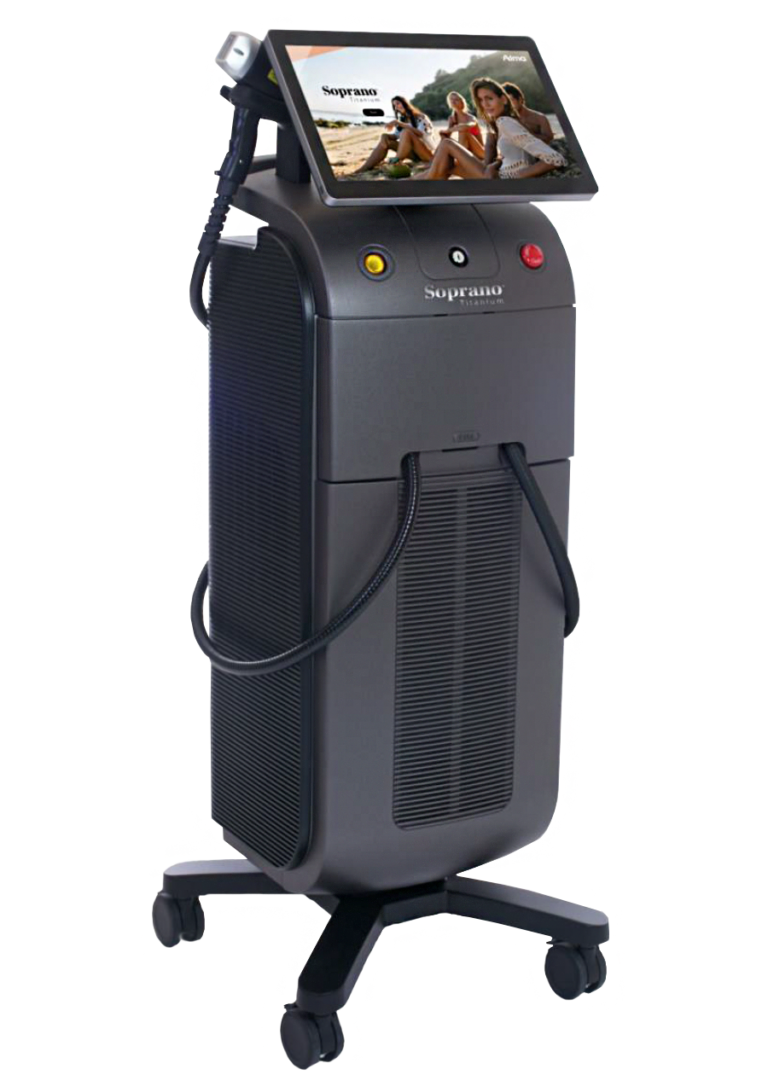 Soprano ICE Titanium is an innovative hair removal machine that can give you smooth, hair-free skin.
It comes with the latest cooling technology that can help provide non-stop, pain-free treatment. Alma Lasers designed the machine to provide maximum results without sacrificing efficiency or patient comfort. Soprano ICE Titanium now comes with one, exceptional handpiece that can fire different laser wavelengths at once. Discover more of the machine's features and how it can help give you smooth skin permanently.
What is SOPRANO TITANIUM?
Soprano Titanium is a hair removal machine that is redefining laser treatment with its cooling technology. The machine can efficiently target hair strands with its simultaneous laser wavelength firing. The device also has a cooling technology, ICE PLUS, which prevents overheating of skin.
The advanced features of the machine make treatments safe for patients of all skin types and tones. The procedure can be done even on tanned skin. Upgraded with newer and better features, Soprano Titanium redefines safe and comfortable hair removal.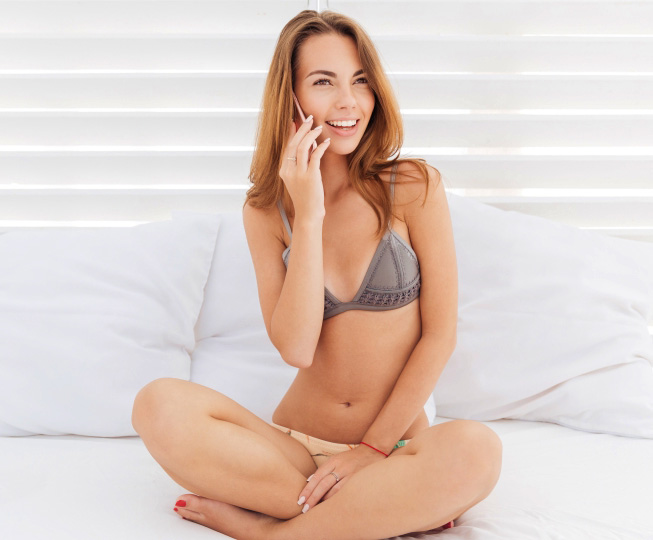 Benefits of SOPRANO TITANIUM Treatment
Soprano Titanium's technology makes it possible to permanently remove hair from all skin types and tones. It even works on tanned skin, which is quite hard to achieve with the normal laser machines available. The hair removal machine delivers three different wavelengths, which can reach several layers of skin. Below are the benefits you can get from the treatment.
All About SOPRANO TITANIUM
Soprano Titanium is an efficient hair removal machine that comes with upgraded features for faster, safer, and more comfortable treatments. The machine is suitable for different skin types and tones. Find out more about the product and its features and technologies.
How It Works
Soprano Titanium uses trio clustered diode technology, effectively providing laser hair removal treatment. Trio clustered diode technology delivers three different wavelengths including Alex 755m, Speed 810nm, and YAG 1064nm. These wavelengths can reach various depths of skin and target different anatomical structures. This increases the efficiency of Soprano Titanium to target various types and colors.
It comes with In-Motion technology, allowing the applicators to pass through the treatment area multiple times. The laser system comes with advanced features as well, that speeds up treatments and ensures patient comfort. The device also comes with a 15-inch graphic user interface with presets for all available treatments. Read on to find out more about the technologies and features of Soprano Titanium.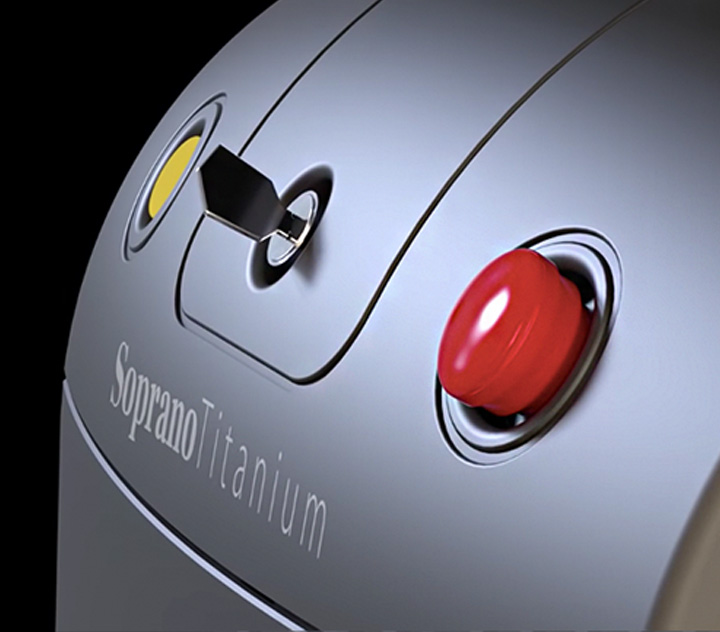 SUPERIOR TECHNOLOGY
Alma Lasers Super Hair Removal gradually heats skin while delivering short laser pulses at a fast rate. The sweeping In-Motion technology allows the applicator to pass over the treated area multiple times, effectively targeting hair follicles to prevent regrowth of strands.
ICE PLUS COOLING TECHNOLOGY
The ICE Plus cooling technology ensures that skin is cool and comfortable for non-stop, painless treatment. This technology continuously delivers a cooling sensation with the cold sapphire tip. This prevents skin damage and discomfort.
DUAL CONNECTOR
Soprano Titanium has a dual connector, allowing the use of two applicators at the same time. This can help users switch to different applicators and settings during one procedure. With this feature, treatments are faster, safer, and more efficient.
3-IN-1 APPLICATOR
Soprano Titanium uses Trio clustered diode technology, which allows the applicator to deliver three different laser wavelengths. These wavelengths can reach different tissue depths. These three wavelengths include Alex 755m for various hair types and colors, Speed 810nm for faster treatments, and YAG 1064nm for darker skin.
The laser platform comes with 4Quattro, an applicator with a large spot size of 4 cm2. It is capable of working on a grid of 600cm square, which makes treatments much faster. With this applicator, the procedure can be 40% faster.
APPLICATOR TIPS
To keep treatments safe and hygienic, the machine comes with different tips for face, body, and intimate area. The facial tip can reach areas that are hard to target such as the ears, nostrils, and glabella. There is a separate tip for the intimate area as well, to keep treatments hygienic for patients. These hygienic tips are disposable.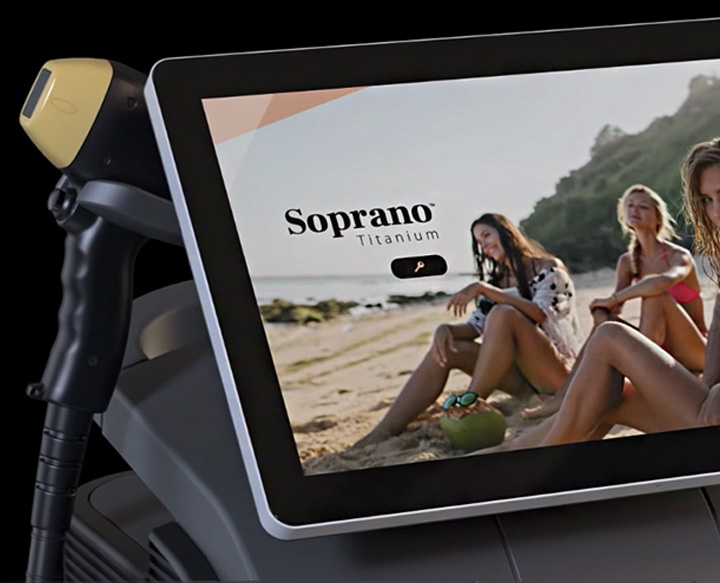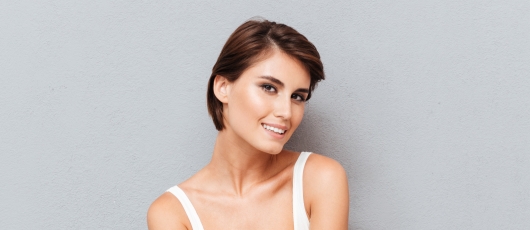 FACIAL HAIR REMOVAL
Facial hair may range from fine, thin hair to coarse, thick hair, which might need different applicators and settings. However, with Soprano Titanium, it is possible to prevent regrowth of facial hair in just one session. It is equipped with three different wavelengths that can target various hair types on any skin tone. This makes hair removal safer and more comfortable.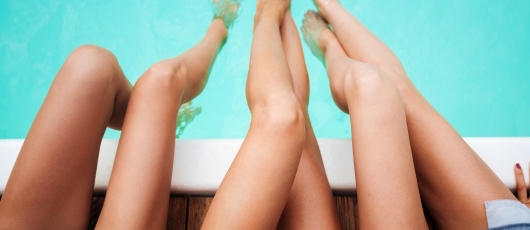 BODY HAIR REMOVAL
Remove hair from anywhere in your body with Soprano Titanium – the most advanced hair removal machine. Quattro 3D can speed up treatments as it covers a larger area of skin. When combined with the In-Motion sweeping motion technology, full hair removal is guaranteed. The procedure is safe to use on tanned skin as it effectively targets hair follicles.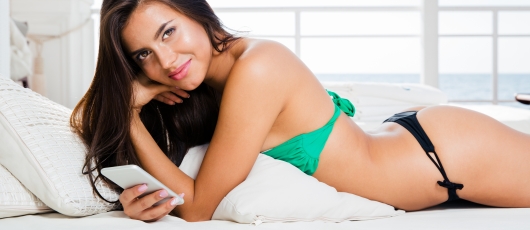 BIKINI LINE HAIR REMOVAL
Instead of the painful waxing of the bikini line, you can opt for Soprano Titanium's comfortable hair removal treatment. No worries! It comes with disposable hygienic tips used only for the bikini line. This ensures that all procedures are safe and to prevent contamination. The cooling technology keeps you comfortable during treatment.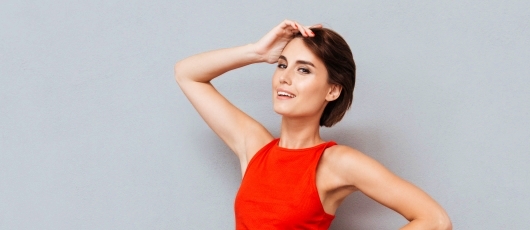 UNDERARM HAIR REMOVAL
Normal hair removal treatments like waxing and plucking can feel quite painful on underarms due to high sensitivity in this area. Thankfully, with Soprano Titanium, it is possible to permanently remove hair in this area without causing pain or discomfort. ICE Plus technology keeps skin cool during the procedure for non-stop treatment of underarms.